Unleash Laughter And Mayhem In Your Parties This Christmas!
Are your relatives coming over for the holiday and you're in desperate need of a fun exciting game to keep everyone entertained?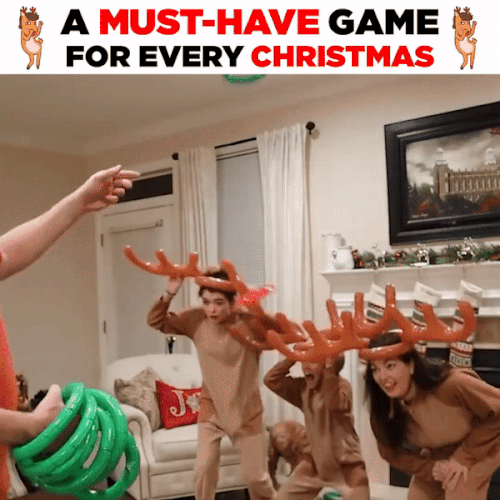 Brighten up your Christmas parties and unleash laughter and mayhem with this Reindeer Hat Horseshoe Game!

This entertaining inflatable hat adds a unique twist to the classic ring toss and lets you catch the rings with your antlers!

It features 2 exciting game modes where you face off with your opponent and get the highest scores or square off in teams where the most ring count wins!

Simply wear the specialized antler hat and try to catch as many hoops as you can!

Get hours of laughter and fun as you bond in teamwork and play this Christmas with the Reindeer Hat Horseshoe Game!
Soft Durable And Very Easy To Wear!

Soft, durable, and inflatable PVC plastic that is easy to wear!

Product Specifications:
Material: Environmental PVC
Size: Antler 13.7" x 32.5". Ring is 7.5" x 7.5 "
Package Includes:
2 x Inflatable Antler Hats
10 x Inflatable Toss Rings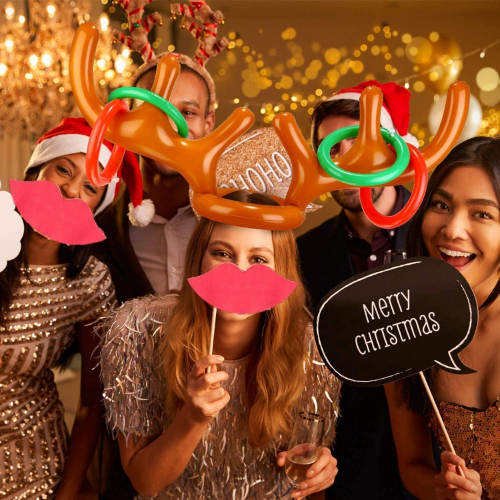 It's a fun and exciting game that everybody can join in and play!

Gather the whole family and let them pitch in on the fun as you toss and catch the rings in the Reindeer Hat Horeshoe Game!
A Fun And Engaging Game For The Whole Family!
The game comes with two distinct play modes, giving you the flexibility to play against your friend in 1-on-1 or to compete with another team!

Challenge your opponent in an adrenaline-pumping 1-on-1 battle as you pit your dexterity and wit to score as many rings as you can!

Compete in a nail-biting rivalry between teams and let your team's ring tossing accuracy dictate the highest score!

You can even add your own rules to make the game much more fun!

Give your family an excuse to put down their phones this holiday with the Reindeer Hat Horseshoe Game now!